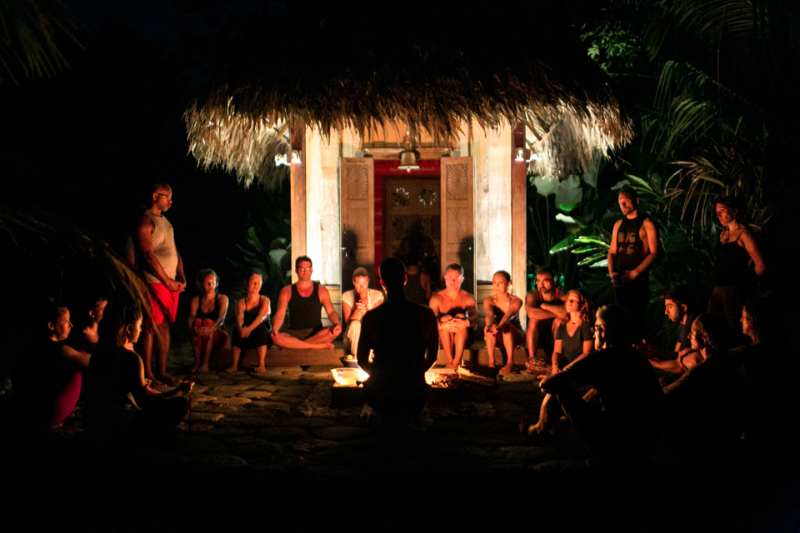 Do you find it difficult to make time for yourself? Are you struggling to meditate everyday? Do you find it hard to to reclaim your spiritual life?
The answer to these questions lies in the art of ritual.
As the Yoga Director of Blue Osa, my goal has always been to make it the best yoga retreat center possible.
We welcome all people to Blue Osa.
Our beautiful beachside retreat center has attracted a variety people for many years. Students come and have found peace here in our remote Costa Rican jungle yoga sanctuary.
The rituals of Blue Osa are to enhance your journey inward.
These daily rituals serve to help seekers go deeper and discover a more yogic way of life.
The word ritual often conjures many images. People immediately envision candles, beads and oils. While this is indeed ritual, a habit as basic as brushing your teeth each morning can also be a ritual.
Most people don't realize how many rituals are already ingrained in their everyday life!
Think about the established, predictable behaviors that make up your day. What makes something more than just routine?
Why not transform it into a ritual is intention.
You need to put mindful intention behind the action, giving it meaning.
Your daily life is full of opportunities for ritual. Consider how you can turn mundane actions into sacred rituals.
We have several established daily rituals of Blue Osa that we use at the retreat center to make up our day:
Morning Silence Will Show You What you Can really accomplish with the power of ritual
When was the last time you spent even just a few minutes in complete silence?
Silence is golden!
Every morning is an opportunity for quiet self-reflection as we practice morning silence.
At Blue Osa, we do not have internet available during morning silence. This time allows for genuine introspection, rather than the distraction of electronic devices.
There has been much scientific research done on the benefits of practicing silence.
Many guests arrive at Blue Osa feeling stressed and overwhelmed, looking for a respite from the "real world".
Morning silence is a wonderful way to take a time out. Practice separating yourself from the million things demanding your attention. Take a breath from those things causing you a feeling of unrelenting busyness.
The morning silence sets a tone of calm for the rest of the day and brings everyone into the present moment.
Blue Osa is nestled in the jungle. This means the sounds you notice when practicing morning silence are natural ones. Expect to hear the sound of howler monkeys and scarlet macaws.
A very sacred Himalayan prayer is then played throughout Blue Osa to signify the completion of morning silence.
Listen To The Chant!
As you listen, please don't try to memorize it. It will take you a while to learn it… sometimes years. But listening will have an enormous benefit. The vibrations of these mantras will resonate with you all day.

Sacred Meditation Walk
Our sacred meditation walk takes you through the beautiful grounds of Blue Osa. It offers a way to explore the beauty and spirituality of the property and within yourself.
Each shrine is a sacred place dedicated to a deity, ancestor or saint. Spaces throughout Blue Osa offer an opportunity to pause in contemplation.
Daily Yoga
Every afternoon at 4pm we offer a yoga class to the guests of Blue Osa. There really is nothing that can compare to practicing yoga on the stunning elevated wooden deck with the sound of waves rolling in from the ocean.
This is a class for people of all levels and the style taught varies from day to day. The benefits of a daily yoga practice are endless.
Some days practicing yoga comes easily, while other days it can be a struggle to even get onto the mat, which is a metaphor for life. Often after just one week of practicing yoga every day our guests notice immeasurable physical and mental benefits, and are inspired to continue their practice upon their return home.
A daily yoga practice can sound daunting at first, but over time if you are consistent it will become as habitual as brushing your teeth. Physically you will increase flexibility and strength, and mentally you will have much more emotional clarity.
Dinner Circle and Prayer
Dinner is a special time at Blue Osa and a perfect opportunity for ritual that is often overlooked at home. During dinner we do not have internet available to encourage genuine social interaction between guests.
Dinner can be simply the fulfillment of a need for food, or it can be an opportunity to connect and unite. Before the meal we make a circle around the food that has been lovingly prepared by our chefs. The chefs introduce the food, most of which is sourced from our own farm.
We then take a moment to bow our heads as a prayer of gratitude is read aloud to the group. These prayers were written specifically for Blue Osa by one of our guest teachers Karina Mirsky:
Day 1
Today we celebrate the PRESENT MOMENT. We are grateful for everything that has happened in our lives which led up to THIS moment, where we gather together in the HERE and NOW. Breathing in, let's fully arrive in the present moment… Breathing out, let's be grateful for this moment… May this moment be a delightful one. – Amen
Day 2
Today we are thankful for THIS LAND. We are blessed with green earth, warm air, sunrise, and ocean song. We honor the native plants, animals and insects here who share their home with us. We are grateful to the people who built the structures which allow us to inhabit this little piece of paradise. May this land and all who come here be blessed. – Amen.
Day 3
Today we honor the CIRCLE OF LIFE. We are grateful for the plants and animals that give up their lives to sustain ours. May this food nourish our bodies, minds and hearts. May it also enrich our time together as we learn more about what it means to be alive. – Namaste
Day 4
Today we bow to our ANCESTORS. We are thankful to those who came before us. The relatives, community members, teachers, and leaders who worked hard for us to live the way we do today. We honor their wisdom, efforts and sacrifices. May we make our ancestors proud by treating the each other and the earth well. – Amen
Day 5
Today, and every day, we honor the CREATOR: The architect of love, wisdom, beauty and guidance. We humble ourselves to this sacred source. May we serve it every day in our thoughts, speech and actions. – Amen
Day 6
Today we are thankful for ALL THAT SUSTAINS US: Healthy food, fresh air, and clean water. Spiritual practices like yoga and meditation. The support we receive from teachers, family and friends. Our careers and creative passions. May all that sustains our lives be blessed in thankfulness. – Amen
Day 7
Today we are grateful for our BLUE OSA FAMILY and for ALL OF YOU. It is our joy to work together to serve you. We pray that your time here has filled up your hearts, souls and stomachs! May you be blessed on your journey and travel safely back to us someday soon. – Amen
These are some of the ways we at Blue Osa embrace daily rituals, making each day special. Make rituals a part of your life to deepen your spiritual connection.
Learn More About Experiencing Blue Osa Yoga Retreat + Spa
Watch the beginning of this video to hear the Mantra.