I first heard about doggy heaven when three friends tagged me on this Facebook post. I saw this video and my first thought was, "I have to go to this place."
Doggie heaven turned out to be very real. And everything the video promised it was.
But it was nothing like I expected.
Upon our arrival, we were greeted by the steward of Territorio de Zaguates. A man and wife team dedicated not only to saving dogs but to giving them a paradise where they could roam freely; a place where they knew they were loved. Their mission is to convince would-be pet guardians to adopt one of their unique, and sometimes even one-of-a-kind breeds, rather than resorting to puppy mills, over-priced breeders, or pet stores – and in the process making one less dog homeless.
I was immediately struck by the beauty of this place… and the smell of nearly 900 dogs. The beauty won out on the smell.
The dogs live on this scenic mountainside overlooking the San Jose Central Valley. There is green as far as you can see in all directions. While slightly overcast, the sun, when it appeared, cast its magical light across the enchanted landscape bringing it to life. The dogs grouped all together with Zaquates steward–the alpha male of the pack.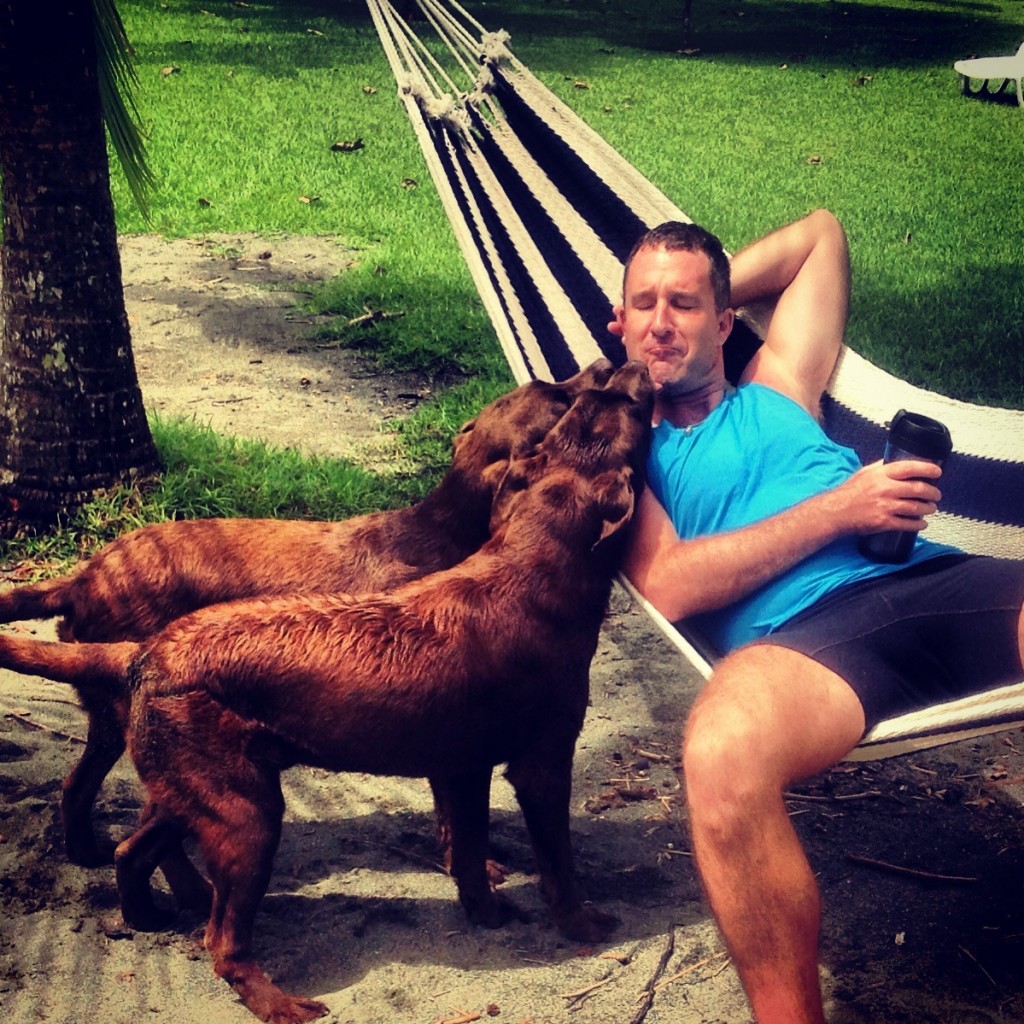 If truth be told, I have never been a dog person. I've always preferred cats. I found dogs to be too big, too smelly, and way too slobbery. Unlike cats, dogs have little-to-no social graces. Ever since I was severely bitten in the Indian Himalayas by a street dog, I've had an overwhelming fear of dogs.
Until the day I bought Blue Osa.
Upon the purchase of Blue Osa, we inadvertently adopted not only a French woman but, at the time, 5 dogs and 1 cat. I had dogs in my life whether I wanted them or not.
I never really grew fond of them, though. They were the family members I knew I had to put up with. I emphatically declared we would have no more… which lasted until my Rama showed up one day.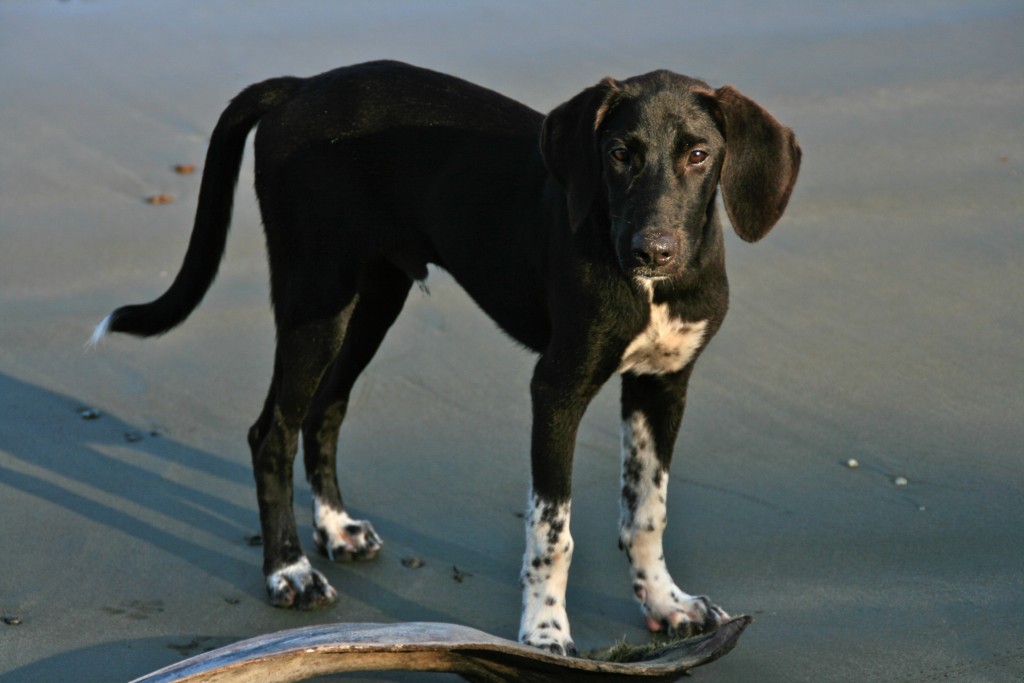 Rama, affectionately referred to as Rama Obama, showed up as a puppy. The people at Blue Osa adopted him before I had a say in the matter. For the first few days, I shunned that little mutt while I deliberated on the next course of action. I was determined Blue Osa would not be overrun with strays.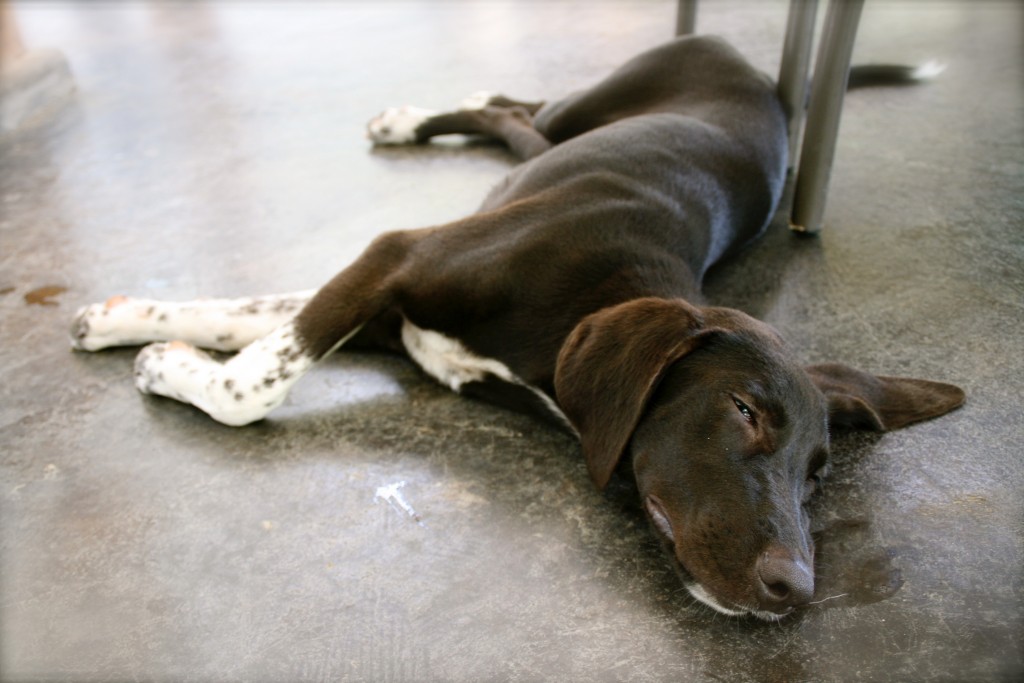 Then it happened. One night, I saw him passed out on our dining room floor, his gangly little body barely breathing, exhausted from a day of playing on the beach. I looked at that emaciated form and said to myself, "I am going to personally adopt this animal and make him my yoga dog."
In the first 4 months, I, like a patient new parent, taught Rama how to be the perfect companion. Part of that education included our nightly sittings. Each night, while I would immerse in a movie or tv series downloaded in the jungle, Rama would sit in my lap while we swayed back and forth on my favorite rocking chair. For hours each night I would rock him to sleep, his head dropping toward the floor, nearly pulling his body off my lap.
While it wasn't love at first sight, surrendering to the love this little guy wanted to give me propelled me further along my yogic path to embracing all living beings as unique creations of the divine.
Since Rama came into my life, my heart has been open to receiving more animals. We now have a growing family of furry companions who have become the pillar of our yogic life at Blue Osa. As each of our guests come with worries and crosses to bear, our animals, almost instinctively, sense our guest's pain, nuzzling up to them, offering compassion and comfort.
When I heard there was a place in the world that treated dogs with love, compassion and freedom, I had to investigate. And I went with a secret mission…
I wanted to adopt another puppy.
After arriving, the steward of Territorio de Zaguates invited us for a walk with the dogs. We had no idea this "walk" really meant a 2-hour adventure through the mountains with 900 pups.
Up and down hills, through rivers and small streams, and into the clouds we ascended with hundreds of furry little creatures happily chasing us – or us chasing them. We stopped several times along the way. In these moments, the dogs investigate each human seeking out the one who would give them the most attention. At one point, I counted 15 dogs surrounding me, all trying to push their little heads under my arm and up toward my heart. The biggest problem I faced in those moments was that I didn't have enough arms embrace them all.
Along the way, I would fall in love with a dog, only to lose track of them by the next stop. There was even one dog I named Helen. And another little black puppy I named Sophie. At the end of the tour, I desperately sought to find Helen and Sophie, but to no avail. Both were lost in the pack.
"But I came to adopt a dog!" I exclaimed to my two friends who had accompanied me. Isaac, one of my friend replied, "Aaroncito, who are you going to take?"
Wavering on my commitment, I went deep within myself and asked my intuition what was I supposed to do.
"The right dog will appear shortly." it whispered back to me.
But with the sun setting, and the stewards of Zaguates shutting everything up for the evening, I was not so sure.
And then, out of absolutely nowhere, Sam appeared.
The first thing I noticed about Sam was that he was limping. The second thing I noticed about him was that he had the worst breath I had ever smelled on any dog. Nevertheless, it was love at first sight as he limped over to me eagerly reaching up for some hugs.
The number of dogs ranges from 700 to 900. They are constantly receiving new dogs, and more often than not, pregnant dogs who are ready to give birth. Newborns are kept separately from the rest of the pack, where they receive special care. When they're not exploring the mountains, the pups are kept in spacious, clean kennels. Utmost care and attention are given to each dog. This is truly a special place.
Each month Territorio Zaguates needs to raise approximately $22,000. As you can probably imagine, it takes a lot to feed 900 dogs. Not to mention the fact that they constantly receive new dogs. With each new dog taken in comes a list of medical expenses. They need as much as people are willing to give each month. To aid in this endeavor, Blue Osa is now collecting donations on behalf of our guests. We really do encourage our yoga community to:
1. Visit Territorio de Zaguates: experience this amazing magic for yourselves.
2. Make a donation. Go to their Facebook Page, and support them, or give a donation while you are there. Their furry little residents will be so happy and appreciative.
When we adopted Sam, the process of adoption was easy. We were told to pick up a dog, take him home, and send back some photos of how happy he was in his new home.
Sam immediately adjusted to being with us at Blue Osa. As soon as he leaped out of the car, I knew he had the feeling that he had arrived home. The very first thing I did was introduce him to Rama and Pete, and then we went on our own walk along the beach. I watched our newest addition to the family joyfully dance up and down the beach. In my entire life, I have never seen a dog as happy as he was that day.
I am waiting for a time when I can return. I am desperate to adopt a new dog. I also want to return with a group of friends in hopes they will not only adopt a dog but fall in love with this place as much as I did.