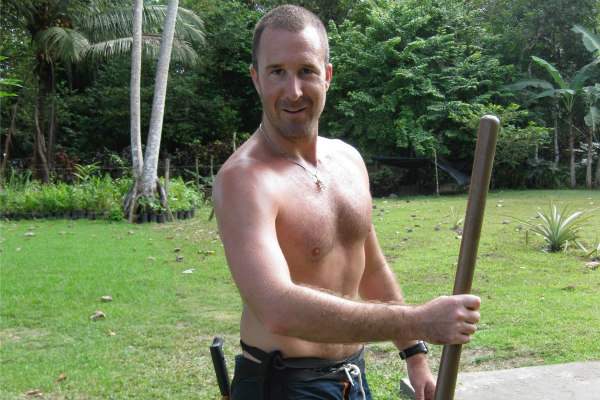 Most people who come to our yoga retreat center only see what we want them to see. What they do not see is the blood, sweat, and tears that went into making our oasis a reality.
Building Blue Osa Yoga Retreat & Spa has been one of the hardest challenges I have ever faced. And one of the most rewarding.
My business partner, Adam, once said that we must have been drinking the Kool-Aid when we made the decision to open a yoga retreat center.
"What were we thinking, opening a yoga retreat, in the jungle, in the middle of nowhere!"
I knew what we were thinking. We had a dream of creating an oasis removed from the distractions of life. We dreamed of a space where people could come and be still. A sanctuary where they would glimpse the possibilities of who they could become in this world. We dreamed of a place where people could heal and retire from the busy demands of the world.
It's a great dream, right?
And yet we still sometimes wonder, "What were we thinking?"
Another point Adam and I have often made, is that if we knew then what we know now, we would have never opened Blue Osa. And thank god we did not know! Thank god we were ignorant. What is that famous expression?
"Ignorance is bliss!"
So here is a major warning:
If you are one of those people who would like to keep your fabulous yoga fantasy, stop reading now.
But if you are one of those types of people who either want to know what you are up against or want to be more prepared, please continue reading.
14 Hidden Challenges That'll Happen When Opening a Yoga Retreat Center
1. How do you get your supplies?
Depending on the location of your yoga retreat center, this can be an issue. If like me you decide to plop yourself in the middle of nowhere, then getting supplies can be a serious challenge.
But please do not despair. I have met people such as Lana from Luna Lodge, who is even more remote than us. Additionally, she has a challenging road to navigate once you arrive. So if Lana can do it, so can you.
The key here is to make as many friends as you can in the closest city. Have them show you around. Learn from them where to source things. Find companies who will deliver. And always plan ahead as much as you can.
Insider Tip: Never be afraid of ordering too much toilet paper. You will always use it.
2. Yogis can be some of the most unruly people you will ever meet.
Many people who are dreaming about opening a yoga retreat center fantasize about how wonderful their lives will be once they are surrounded by all these enlightened beings coming to practice yoga in their sacred space.
I can tell you firsthand that yogis can be some of the most unruly people you've ever met. They can be loud, obnoxious, demanding, rude, and entitled. Many yogis would like to think of themselves as a group of people who are open to other people. But they are not. Yogis can be just as demanding as the next person.
In short, yogis are humans. And it is almost certain you will never meet an enlightened one.
Having said this, you will meet a lot of wonderful people in this adventure. You will meet people who need your yoga retreat center. You will meet some of the kindest and most caring people you have ever met. And more than likely, your yoga retreat center will positively affect a lot of people's lives.
3. Who can you trust?
One of the hardest things we found in opening a yoga retreat center in a foreign country was in knowing who to trust.
In our first year, we were cheated by people we placed our trust in.
One of those people was our lawyer who stole over $7,000 from us. And when we mentioned this to the people who referred her to us and placed a lot of trust and faith in them, they reacted in an unkind way. They told us we were wrong and blamed us for being belligerent to their lawyer.
Our advice? Do as much homework as you can, and never be ready to commit to one person. It will take some time to find the right support team and it will not happen overnight.
4. Do you speak their language?
When you open a yoga retreat center, it is useful to know the language of the people you need to interact with. (This obstacle is one you would only face in a country outside of your own.) While opening Blue Osa in Costa Rica, I knew that I would go through I learning curve while I was learning Spanish. But even when you learn a language it takes a lot of time to then learn how to communicate.
There were so many instances where I would ask my employees to do a specific task. I would then come back several hours later to find that something entirely different was done. More often than not, I would find the completed job was the complete opposite of what I wanted.
5. How much and how little?
How much should you invest and how much conservatism is healthy? You will have so many people telling you what you should spend your money on. In our case, we had a lot of ex-pats looking for work and offering their expertise 5 to 10 times more than what the locals would charge.
Some of the expertise of these ex-pats will be invaluable and some of it will not. Additionally, other people will also be peddling their knowledge as indispensable.
You don't have to make any decisions right away. And you don't have to hire a full staff right away.
Take your time to evaluate what the best business decisions are for your yoga retreat center.
You will have to make some hard decisions in the amount of money you are spending, and what you spend your money on.
6. The earth and weather are changing.
The earth and weather cycles are changing. Climate change is a huge contributing factor. Natural disasters such as avalanches, floods, earthquakes, and drought can pose threats to the stability of your retreat center.
For example, Blue Osa is a beach-front yoga retreat. One of the big issues we currently face is rising sea levels. To date, we have lost 10 meters of our property in the last nine years due to this phenomenon. However, we do not face issues such as hurricanes and other natural disasters beachfront resorts typically face.
7. Travel is a big part of your business.
We chose Costa Rica as the home of our yoga retreat center because it is a country people want to travel to.
Costa Rica perfectly embodies the ideals of the yoga philosophy. One of these ideals is the "Pura Vida" spirit. And another is that Costa Rica is one of the only countries in the world that does not have an army.
There are several countries which are completely safe and hospitable. Many of these countries are negatively portrayed in the media. For example, Nicaragua. Because of Nicaragua's history, people are scared to travel there.
Adrienne Ward from Big World Small Planet says, "For many, Nicaragua still seems to be a scary place to visit. This is a result of decades of negative media-driven commentary. In the present day, Nicaragua is in fact, a safe welcoming place to visit. For potential comes down to putting fear aside and getting on the plane. Upon landing, you'll immediately be glad that you did. I began hosting retreats in Nicaragua to turn others on to this amazing country."
In Costa Rica, we are now facing a new problem. The media has sensationalized the Zika virus. This over-the-top sensationalization is now deterring many visitors from traveling to Blue Osa.
Any time you open a yoga retreat center in a foreign country, you will, at some point face issues, real or unreal, portrayed by the media.
8. You have to become an expert on everything.
You've had this dream of opening up a yoga/wellness center and are most likely an expert at teaching yoga. You are an expert at other health modalities and now you want to open a yoga retreat center that is possibly off the grid, in a remote location.
You should know that you will have to become an expert on solar equipment, water & waste management, construction supplies, leaky roofs, permaculture, gray water gardening systems, and everything else imaginable.
At the end of the day, not every person has the stamina or fortitude to endure a prolonged learning curve. Now that Adam and I are entering our 9th year as owners of Blue Osa, we are starting to settle in while continuing to learn and grow.
9. To gun or not to gun, that is the question.
Depending on the geography and location of your yoga retreat center, security may or may not be an issue. For many properties, security involves only showing a presence to ward off unwanted elements. For other retreat centers having good security can mean security is the only way to ensure the safety of your guests.
When we made the decision to have security at Blue Osa, the security company asked us "Do you want your security guards to have a gun?"
This question, of course, raised many questions such as "Why would our security need a gun?" and "Should a yoga retreat center have armed security guards?" and "What will our guests think if they bumped into a night watch security guard with a gun?"
Having armed security guards is a delicate but important question you will need to face.
10. You'll actually have less time off.
Benedict from Yoga Searcher in France said, "Owning a yoga retreat put you on the business side, with all the stress that includes. Learn to delegate to the right persons, the right team, to be able to enjoy the project as well.
Do it with passion, not to make money. Do it because yoga is a way of life, because yoga is your way of life, and you want to build up a community link to the same value. Do it with love and devotion."
11. How long it would take before we would start to be full of people.
You have spent a lot of time dreaming and planning of opening your yoga retreat center. However, one thing they never tell you is how empty you will be during the first few years. Filling your yoga retreat center with people will take time, patience, and a lot of marketing. You need to be able to survive the first three to five years with high costs and low income.
12. Little to no support from friends or family.
I always assumed that opening Blue Osa was a safe bet. I have a lot of friends, students, colleagues, and family in my network. I had thought that all of them would make the journey to Blue Osa. Many of these people in my network have said, "I can't wait to come and visit!"
To date, less than five percent of those people have ever visited. In our first two opening years, only one of those people brought a group.
And only one family member has come to visit!
Do not expect any support from anyone in your network of friends, family, and colleagues. Every single one of these people will tell you how excited they are about your new adventure. Every one of these people will promise to come to visit. They won't. Do not factor them into your business plan.
13. Everyone wants a piece of the action.
The moment people in the community find out you have purchased the land for your yoga retreat center, they will find you and want something from you.
The community's perception of you is that you are a rich American, even if you are not rich or American. Everyone in the community wants a piece of your pie. Everyone from locals to gringos, to those in the ex-pat community needing work, to seasonal travelers will want something. They will come with their hands out and claim to have the expertise your yoga retreat center needs.
Additionally, ex-pats and seasonal travelers will charge exorbitant prices compared to locals.
Our advice? Hire local.
14. Don't forget you need a social life.
You have a fantasy that opening a yoga retreat center will either complete you or be all that you need. Why wouldn't you want to spend your free time with these enlightened yogis coming to your retreat center?
You will want and need your own time.
Make sure you have access to a social life in a group of people who are close to you and who you can truly call friends.
Those are my top 14 insider secrets for opening up your first yoga retreat center. If you own a yoga retreat center, please share with us any challenges you face in the comments below.
Learn more about Yogi Aaron and how he created the Blue Osa Yoga Retreat + Spa, voted one of TripAdvisor's top 10 small hotels in Costa Rica.
Blue Osa Yoga Retreat + Spa