If this is your first time hiring employees…watch out! The journey to create the perfect team for your yoga retreat center will take you on the ride of your life.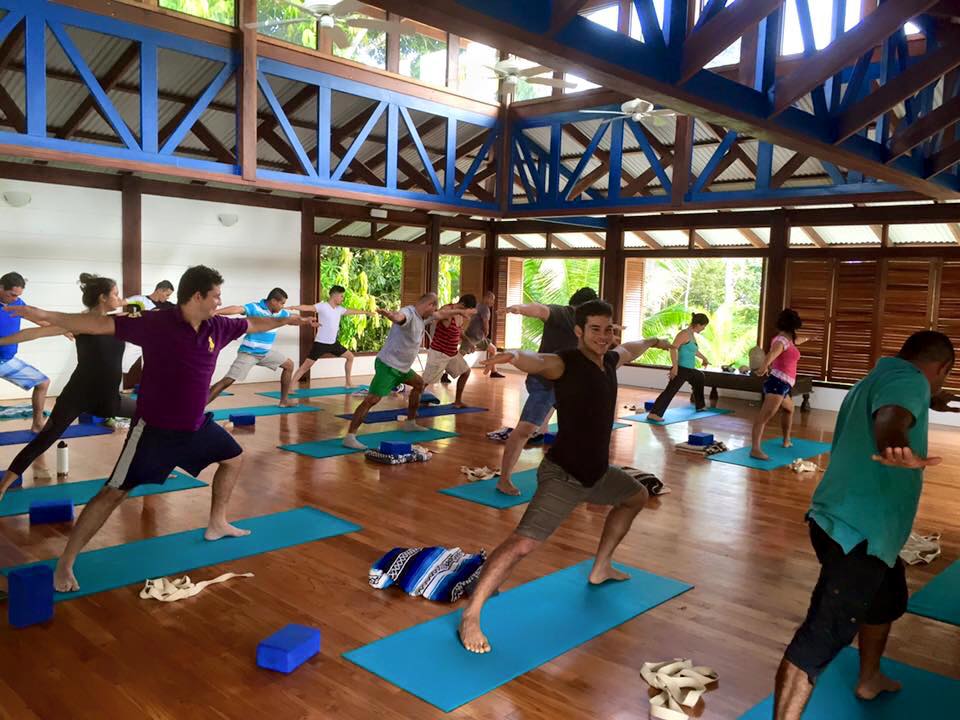 If you are planning to open a yoga retreat center in your dream location, you are probably planning to build your life there as well. Your team will be a part of that life, and you will be a part of their lives. When these goes smoothly, you will become family. Through it all, you will come to highly depend on one another for your very survival.
When Adam and I opened Blue Osa, one of the biggest and most stressful things we faced was finding the perfect people. I would wager that this is a dilemma, all owners face.
The first thing I want to do is to assure you that finding people who want to work for you will not be a problem. As soon as you start construction (if not sooner) people will find you. Afterall, who doesn't want to live, work, and play in paradise? And if you're a foreigner, not only the people you hire—but also, the people who own local businesses will come to rely heavily on your investment in their community.
Second, I want to assure you that the people who seek you out location will often be highly qualified and eager to become a part of your team/family.
So, finding your team will likely be the easy part. The real work begins after you've hired them.
11 Ways to Create the Perfect Team for Your Yoga Retreat Center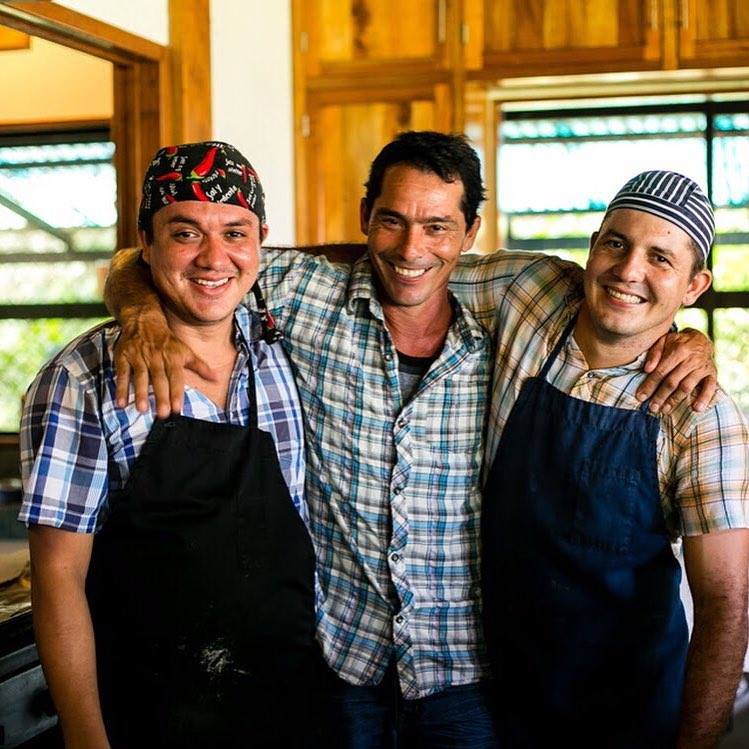 1. First and foremost, hire from the local community.
Yes, hire locally. So many foreigners have this notion or idea that they will not find the kind of people they need locally to create the sanctuary they seek. This could not be farther from the truth, I'll explain more in point #2.
You want to stay local because hiring local is the best way for you to give back to your community. Hiring local is the best way for you to support the country you are in and become part of the community that you serve.
Not hiring local, or trying to pay your foreign employees under the table does not serve anyone.
2. Share your mission and vision statement with your team.
I cannot state how important this step can be. Create a strong and powerful mission statement. (This process can take some time, so be patient.) Once you have it, share it with your employees. Enroll them into your mission. Post in where everyone can see it DAILY.
Everyone always asks me what my secret was in building my team at Blue Osa. I say two things:
I included my employees in our mission and vision statement.
I shared it with them and got them on board.
"Blue Osa Yoga Retreat and Spa endeavors to provide renewal for each person's body, mind, and spirit through nourishment, care, and a pure form of living."
"The vision of Blue Osa is to live in harmony with each other and our beautiful environment; to embrace life as a never ending learning experience; to appreciate and savor life with each other, and to leave a deep footprint of goodwill in our community and the world in which we live."
3. Create opportunities for self-growth.
Creating opportunities for self-growth and personal development for your team is one of the most important steps you can make. This will set you on the path of creating happy and loyal employees.
Companies, such as Lululemon, encourage their employees to set goals and create personal mission statements notice that not only are their employees happier and more loyal, they produce more.
It takes time to build trust.
It takes a lot of time to build trust with your team. And let's be clear—we are not talking about you trusting your team. We are talking about your team trusting YOU!
Yes we know, trust is a two-way street, but in my opinion—once your team has trust in you, they will have loyalty. Nothing is more valuable than an employee who is loyal. By following the points outlined below, you will be guided in different ways to build that trust. I believe one of the most important steps in building trust is doing what you say you will do.
For example, if you say you will pay your employees every 15 and 30 of the month, then come hell or high water, make sure you pay them. If you say you will reward them for their efforts, then reward them. Do not make promises you cannot keep.
4. Be willing to train your employees.
I've already told you to hire local. And you are probably worried you will not get the level of experience you are looking for. You are probably right. But with time and patience, I promise that you will find employees who are hungry for knowledge and growth. These employees will be the people you train for the positions you want them to one day grow into.
At Blue Osa, our manager Michael came to us as a low-level ranking gardener. He quickly advanced to the head of our maintenance. After nine short months, he became Blue Osa's manager. He went on to respond to emails in the office, make bills for the clients, and was in charge of checking out the guests. He now has full knowledge of how to operate and use our computer system.
Likewise, we have five chefs who work in the kitchen with little to no experience prior kitchen experience. At best, most of them only had a mediocre knowledge base. In time, their skills grew – Blue Osa currently serves some of the most fantastic farm-to-table cuisine in Costa Rica. Our food is renowned in the yoga retreat community.
5. Give your team incentives for jobs well done.
I think that one of the most self-defeating attitudes an employee can have is one that says, "I pay employees a salary. That is their incentive for a job well done." Whether or not that is true, it is the wrong attitude to have if you want to have a team who is loyal to you.
Giving incentives to your team lets them know how much you value their work, their loyalty, and the fact that they show up to work—at all! Many employers make the fatal mistake of thinking only about today. You need to think about where you want your team to be in five or tens years. Incorporate your mission statement into this long term plan.
As you saw above, our mission statement says that we care for each person, and our goal is to savor life with each other. At Blue Osa, this could not be truer.
Here are some ways we have created incentives for our employees:
Every quarter, we share our profits with our employees.
If our employees reach a certain standard of excellence in their quarterly evaluations, we give them an extra day off a month.
We have an employee day / retreat once a year, and sometimes twice a year. During this retreat, we have a person come in to offer team building and intimacy building exercises.
We take our employees on trips. In 2013, we took our Chef Jose to Amsterdam and France. And in 2015, we took our Chefs Rafa and Chele on our Blue Osa Journeys trip to Spain.
Some of our employees do not have passports. As an opportunity to travel around Costa Rica and get to know their country (many of our employees never travel more than 50 miles from home) we have done employee exchanges with other hotels.
This year, we are doing an employee of the year contest. The prize will be a long weekend vacation to Mexico City.
Take the entire team on excursions / day trips / weekend trips.
Giving incentives and rewards for hard work and loyalty will pay off. Always hold the vision of where you would like you and your team to be in five to 10 years. This will help inform and guide your daily decision-making process.
6. Accept that the process of creating a perfect team will take about 5 to 10 years.
We have already mentioned this, but it's important to consider fully—here is why.
Many business owners get so caught up in the day-to-day of their business that they lose sight of their long-term vision. This is easy to do. The burden of opening a yoga retreat center is so great that before long you get swallowed up in the minutiae of the daily grind. It can be easy to get bogged down in trivial matters – especially where it concerns your employees. The result: you end up taxing them with your stress, instead of allowing them to do their work.
How do we do that? This is the subject of the next two points.
7. Have clear boundaries with your employees.
Up until now, you probably thought I think all employees are perfect saints. Not even close. A close colleague once pointed out to me that it is the job of an employee to work as little as possible and get paid as much as possible.
Employees, like children, need to know what the boundaries are. They will test the edges of them regularly.
How does an employer navigate these murky waters? With time, patience, and clarity.
Accept it will take you time to figure out what most of those boundaries are or will be. You do not immediately know them.
8. Have patience for the process of discovery.
Once you know what those boundaries are, be clear with your team about them. Have rules and guidelines written down in a contract. Have a lawyer who speaks the native language of your team come and explain what those boundaries are. Have him speak to one employee at a time and give them the opportunity to ask questions. Remind your team that you are in compliance with their local laws and rules.
9. Accept that you will not get it correct right away!
One of the best things you can do with your team is to share your humanity with them. A great leader is one who always shares their humanity with those who are following them. Think of leaders such as Gandhi or Mandela. These were two great leaders who changed nations. They did not do this by pretending to be something that they were not. NO! They did it by being humble. They reminded people of their own struggles. They apologized all the time- in Gandhi's case, he apologized even when he was correct.
You will become stronger when you are humble and kind to your team. Be patient with them. When they make mistakes, and they will make a lot (but so will you!) be kind and understanding. Show them again the correct way. Then repeat as often as necessary.
Teaching my team to enact what I wanted them to do, took me three to four years.
Each time someone on your team does not do what you want them to do, is an opportunity for you to ask yourself, how am I communicating with them? How am I communicating my instructions to them? How are they receiving my instructions?
More often than not, there is a misunderstanding in how the information is either being communicated, or how the information is being received.
10. Don't be so ready to fire your team.
You have spent an enormous amount of time teaching, guiding, training and investing in your team. They are your most valuable resource. Without your team, your yoga retreat center is doomed to fail. The stronger the team, the more resilient and successful your business will become.
Employee retention is important. Businesses are starting to wake up to the cost or rehiring and retraining employees. Spending a little more to keep the ones you have will save you not only a lot of money in the future, but more importantly, your sanity.
Additionally, your team has come to rely on their jobs to support their families and communities. They need you as much as you need them. Don't be so ready to give up on them. Firing people creates instability in their lives, your life, and the life of the community. Only fire people from your team when all else fails.
11. Do not build your team with volunteers.
One of the biggest mistakes a yoga retreat center owner can make is filling their team with volunteers. Here is why:
Volunteers are not employees, they are volunteers. If they don't want to work, they don't have to.
Filling your team with volunteers is robbing from your local community. You are stealing work from the local community.
Contrary to popular belief, volunteers do cost a lot of money. You need to house them and feed them. You need to take care of them if anything happens to them.
Volunteers can be lazy. Many volunteers come with the inherent belief that they are on vacation. They don't want to work! They want to chill out and socialize.
Volunteers often believe they are guests. The can show up with their own set of entitlements and demands.
Depending on your jurisdiction and local laws, you may need to pay for social security benefits. (Make sure you check with local laws.) Many countries / states are starting to crack down on companies who use volunteers for human resources.
Having made these points, I have had and continue to have, volunteers at Blue Osa. I can state the points mentioned above because they are true. At the same time, we love having volunteers be a part of our community.
We use volunteers to fill in the gaps. They come for specific projects and to help train our staff. If you decide to use them in your retreat model of employment, consider the above.
So, those are my top 11 tips on how to hire the best possible employees for your new yoga retreat center. Did I miss anything? If so, let me know in the comments below.
Learn more about Yogi Aaron and how he created the Blue Osa Yoga Retreat + Spa, voted one of TripAdvisor's top 10 small hotels in Costa Rica.
Blue Osa Yoga Retreat + Spa
This article originally appeared on Yogascapes.com