A body tune up + Muscle Activation
Do you want to:
be pain-free with a body in alignment?
Be able to move, stretch, reach further in your practice?
Gain strength and maximize your workouts in an instant?
Get your body tuned-up to work optimally.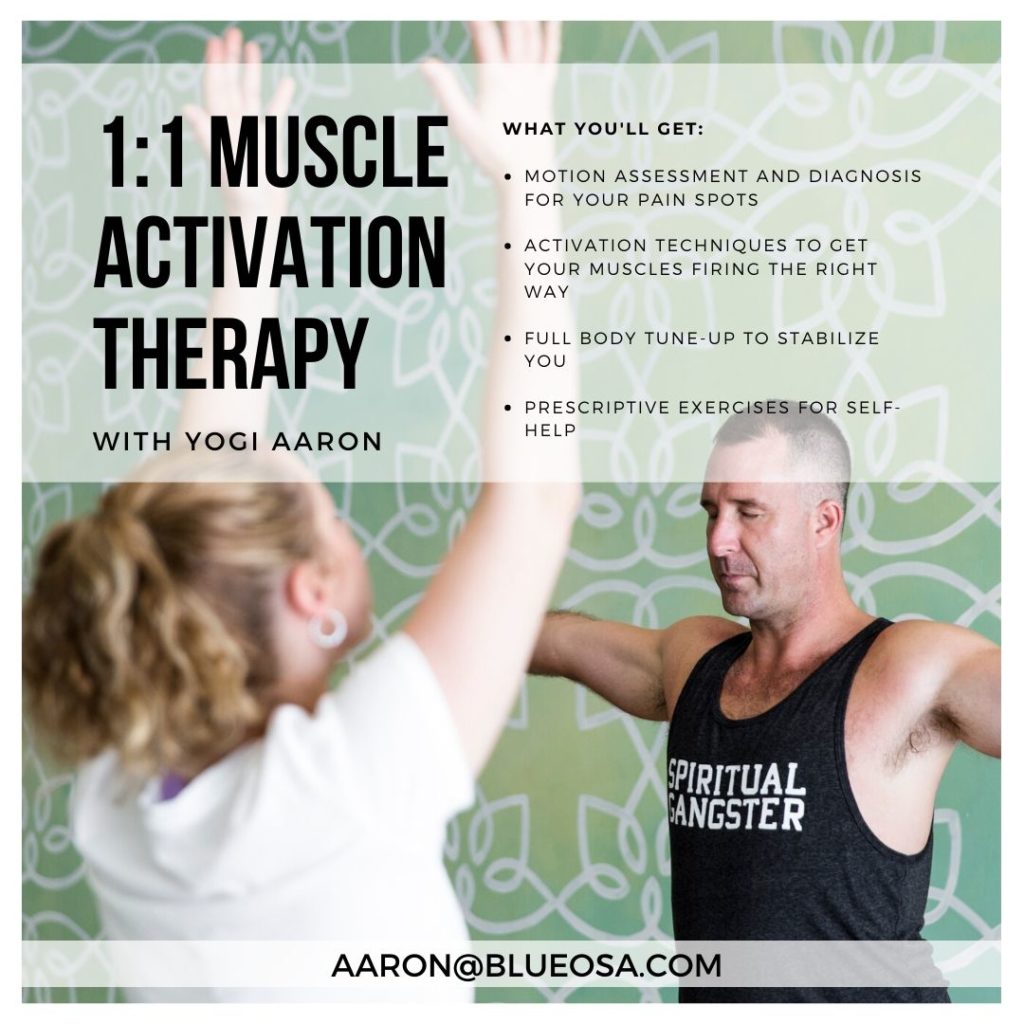 When your muscles get too tight or weak, it can affect the function and the range of motion the joint crosses. Simple activities like getting out of bed or picking something up from the floor to attempting asana or a headstand can trigger pain. These are signifiers that not all of your muscles are being used in the way they should.
Muscle Activation Therapy works to zoom in on these weaknesses and pinpoint muscle imbalances. I'll use activation techniques to restore your muscles to their full capacity and strength. So you can stretch, push, and reach further in your practice.
What am I offering?
A full-body scan, diagnosis, and live muscle activation techniques specific to your body. After your 1:1 consultation, not only will you be pain-free, but you'll move your body further than before, AND your muscles will also become stronger.
I'm offering this unique strengthening and therapy program specific to your body. The sessions are about 60 min.
Email or direct message me to set up your free 10 min consultation call. Or just book a session and let's start giving your body what it needs.
Realize Your Limitless Potential — One-on-One Coaching Calls With Master Teacher Yogi Aaron
Are you ready to live a life of complete freedom? To finally do what you want to do—and be who you want to be?
Then it's time to take action. You are already capable of more than you know; now all you need are the right tips and tools with which to take action.
I love nothing more than to work with individuals who are ready to ignite their light of personal empowerment and step into greatness.
If that sounds like you, then schedule an exclusive coaching call today to pick my brain on the following topics:
1. How To Open or Market A Successful Retreat Center
As the founder of Blue Osa, an award-winning yoga retreat center in Costa Rica, I know a thing or two about what it takes to open and market a retreat center that will stand out from the crowd, provide a space for deep transformation, and keep raving guests returning time and time again.
One fatal mistake many business owners make is thinking all they need to do is open a business and the right customers will magically appear at their doorstep. This couldn't be farther from the truth. The good news is, there are specific action steps you can take today to open and market an incredibly successful retreat center.
Receive the answers to all your questions on what it takes to open and market a yoga retreat.
2. Receive A Personal Yoga Practice
It's incredibly important to pick one yoga practice and stick with it. Floating between too many practices can ultimately lead to distraction and chaos. But how do you know what yoga practices are right for you?
As a master yoga teacher who continues to lead classes, workshops, retreats, and yoga teacher trainings around the world, I can give you the guidance you need to unlock a personal yoga practice that's right for you.
Schedule a call today to receive a personal practice from master teacher Yogi Aaron
3. Pick My Brain
Are you a new yoga teacher struggling to find your purpose and grow your business in an overly saturated market?
Or maybe you're someone who is frustrated with your fitness regimen (or lack thereof) and you're ready to make a fitness change for a healthier and happier lifestyle.
I'm available on a limited basis for personal lifestyle, fitness, and business coaching calls.
Popular coaching topics include:
-Advice for new yoga teachers
-Custom health and fitness coaching
-How to start a profitable and impactful yoga business
-How to gain control over your life and live a life of freedom
If you think you could value from the limited opportunity to pick my brain on any of these topics, then schedule a one-on-one call with me today.
I believe we all have a task to fulfill. That task is one of action. Begin your practice.
I look forward to working together!